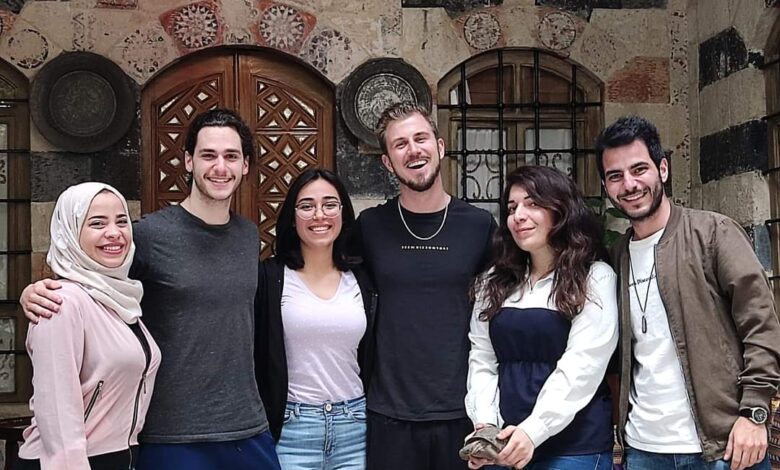 For years I thought that all the meetups I see on Yes Fam groups, the travels, and seeking discomfort experiences with people from this community are out of reach as long I am living in Syria.
But these photos that were taken in the middle of Old Damascus, Syria, proved me wrong!
The story of how I got to meet Thomas Brag is one that I will never forget and is definitely worth sharing, so if you're interested to know, here it goes.
On a normal Sunday afternoon, after a long day in university and while I'm at home scrolling my Instagram feed, I come across a story of Thomas, Touma Bittar, and Roberto Helou in what looks like an old damascene house.
I investigated a lot and stalked a little to realize that Yes Theory was actually in Syria! I looked for the Yes Fam Syria account and fortunately, the admin, Ram Kh Mohamad was from my own hometown, Lattakia, which is hundreds of miles away from Damascus!
I immediately messaged her and suggested to go to Damascus to meet Thomas Brag.
She replied: I'm 99% in!  We reached out to Touma who told us that unfortunately, Thomas was leaving at 11 am the next day! But if we can make it, we could meet him at 10:30 and so we did!
Rama and I booked two bus tickets to Damascus. A 5-hour trip. These photos show what a great day it was!
That Insta story that led me to know that Thomas Brag and Yes Theory was in Syria was not supposed to be posted as I was told later but luckily it was!
And Rama, who was a Stranger a day before became one of the greatest people I know and the best travel buddy too! I also got to meet Touma, Rob, and Ghaidaa who are all amazing people.
I am beyond glad that I seeked discomfort that day to live what appeared to be one of the most exciting experiences of my life!
To conclude, I would like to say that growing up in Syria feels like a roller coaster most of the time, full of surprises and adrenaline rush.
You never know when the next drop is, and when it happens, you're definitely not ready, But when you look deep into the whole experience, you will find an opportunity of joy and hope that keeps you moving forward.
Much love and peace from Syria to the Yes Fam all around the world.❤️
Bana Khalil
For more such stories, follow us on YouTube, Facebook, Twitter, and Instagram.