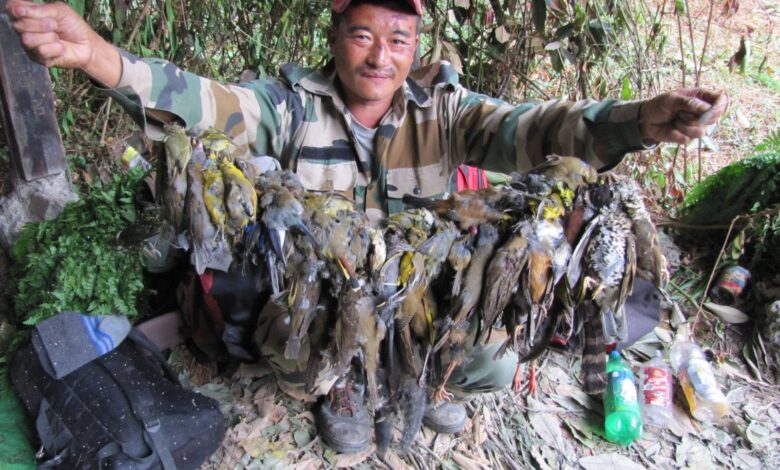 During the 2015 Christmas holidays, I planned a visit to the North-East Indian state of Nagaland with my family, to trek its second highest peak Japfu, and the beautiful Dzoku Valley. Before coming here, I had heard rumours about the voracious appetite of the Nagas for apparently anything that moves, but to see it first-hand was rather difficult to comprehend. We flew to Dimapur, a congested and populous airport city bordering Assam, from where we travelled to Kohima by road. The journey was uneventful but what struck me about Dimapur was the uncanny absence of any birds – not even a sparrow or crow was on sight.
On the first day of our trek, we came to a village called Kigwema and started climbing the Japfu Peak. While walking through the dense forest, we heard many gunshots – it were too frequent. Almost every 10-15 minutes we would hear a loud bang and it would echo through the hills. Soon we came face to face with two Naga hunters. They had killed a porcupine, couple of hoary-bellied squirrels and about a dozen birds of different species. They were preparing their afternoon meal. I tried talking to them but they did not speak English or Hindi. We took some photographs and moved on.
Some hours later we reached a rest house. Here we met a large group of hunters. Many of them donned Assam Rifles uniforms and they had guns. There was a huge heap of dead birds on the floor. One man stitched them onto a thread like a garland and hanged them from nails on the wall. In the heap I could ID various kinds of thrushes, bulbuls, barbets, sunbirds, pitta, tits, flycatchers and other birds which we were hoping to see alive in nature. Seeing all this, my daughter became very agitated and she started crying. She was so upset that we decided to abandon our trek and we returned to Kohima.
On the next day morning, we cancelled our plan for Dzoku Valley fearing the same kind of experience and instead we started for the Doyang lake in the Wokha district. On our way, we passed a beautiful eco-friendly village called Nsunyu. Compared to Kohima, Wokha seemed more scenic and along the way we were happy to spot bulbuls, warblers, and kestrels alive in nature. But as the day progressed, the sound of gunshots reappeared and our hearts felt heavy for the poor birds. Though we could not see the hunters this time, the sounds kept reminding us that they are there, carrying on their kill for food.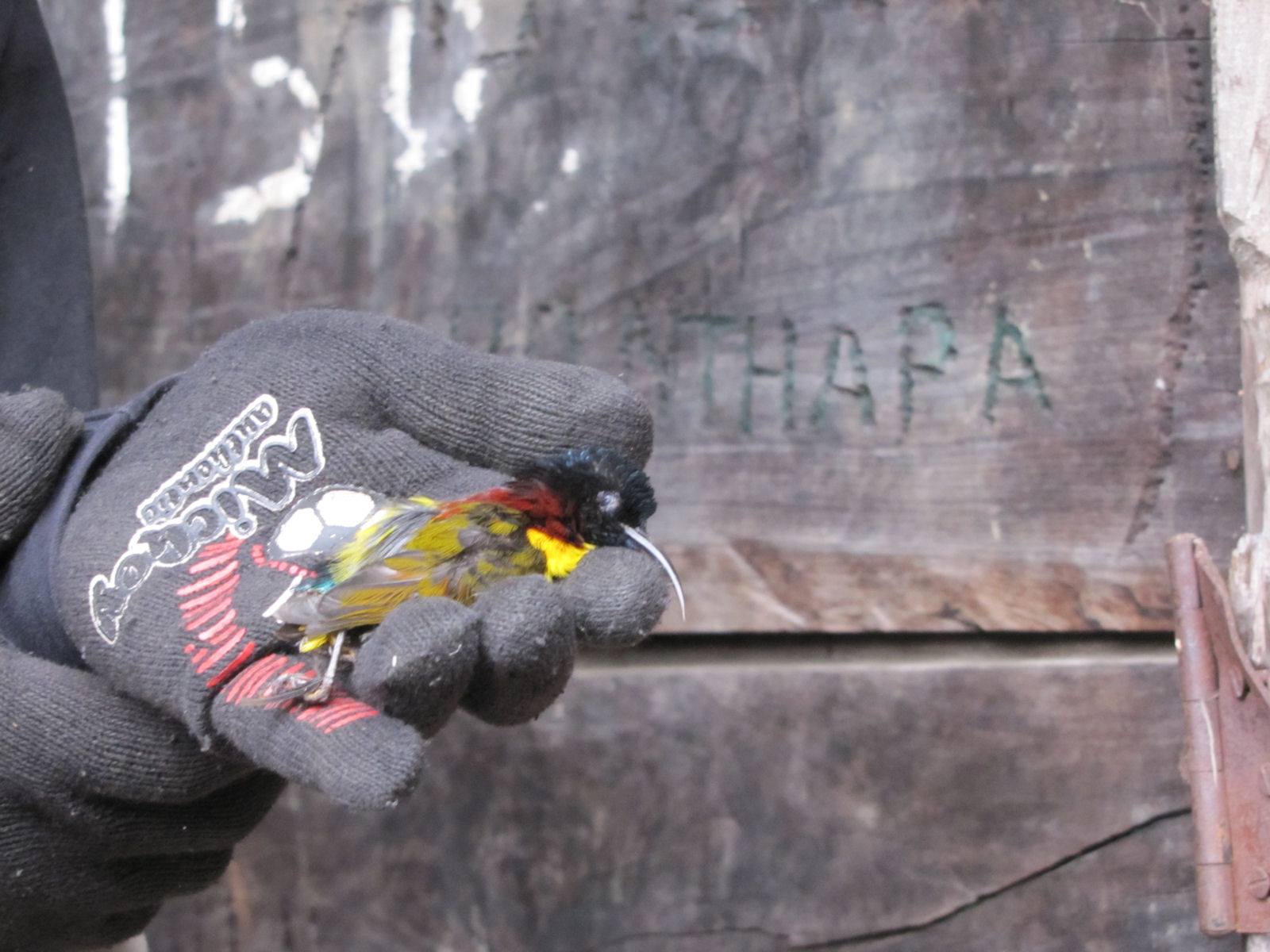 Today's Naga people who have become urban, often alienate themselves from their nomadic countrymen. In mainland India, Nagas are often ridiculed for eating dog meat. We did witness people cooking dog meat in the village of Doyang but as a dog lover, I was actually very happy to see many street dogs in Kohima. Later, in Kohima market we saw several live animals being sold for food, these included frogs, mice, larvae of insects, snails, etc. While I am not against meat-eating of any kind, I deem mindless killings unnecessary. In the modern age, when agriculture and animal farming can provide us enough resources for survival, indiscriminate destruction of the ecosystem can only lead us to catastrophe.
In Kohima, I met the DIG of Assam Rifles and informed him about the mens wearing army uniforms and killing birds. He told me that he will communicate this to the ministry. But I was not very hopeful. To me, it seemed it may take years of effort and support from environmentalists and nature lovers to aware the people of an entire state who have lived like this for thousands of years. Many foreign tourists come to Nagaland in the month of December for the famous Hornbill festival but unfortunately, this mascot bird hardly exists in its natural habitat.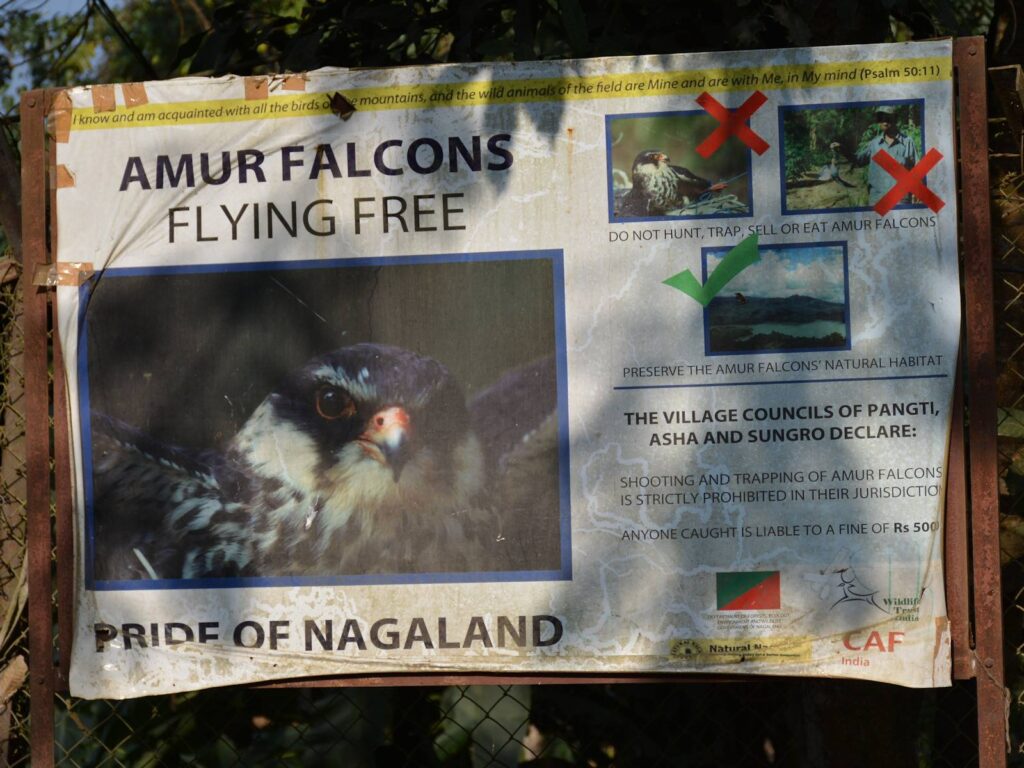 The only hornbills one can see are the wooden statues put up by their government. November-December is also the time when the Amur falcon visits Nagaland. I could see posters and pamphlets distributed by NGOs to protect these birds. The state government too has announced penalties for killing the Amur falcon. But other birds are yet to have that privilege and their fate remains uncertain.
This article is written by Sandeep Biswas
Photo by Sandeep Biswas