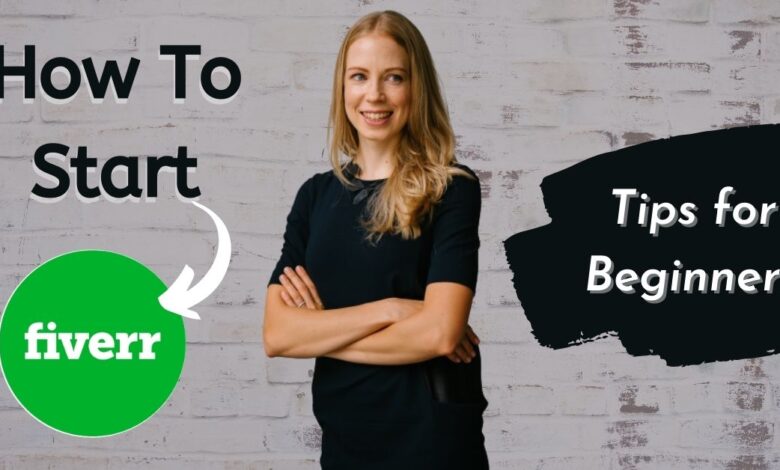 Earning money on the internet appears to be a pipe dream. Fiverr, a freelancing marketplace may assist you in doing so — but the competition is strong! This post contains some tips from a successful Fiverr freelancer to assist you in gaining awareness in the marketplace and receiving your first orders.
Read more: How to Create a Successful Fiverr Gig
Earning money on the internet is one of the many wonderful benefits of digitalization and the twenty-first century. There is no need for an office, a master's degree, or a large budget. To earn money on the internet, all you need is enthusiasm, discipline, and a creative streak.
That is why working as a freelancer is getting more popular. Simply open your laptop and go. In reality, however, earning extra money online is not that simple. Before you can get started, you must address issues such as acquisition, customer communication, and job planning.
Fiverr is one of the most popular sites. Fiverr, which was founded in Israel in 2010, has long been popular in North America and Asia. And today, the freelancer trade is growing increasingly prevalent in Europe as well. Fiverr has over 3.8 million active customers globally (as of 31 March 2021).
At first, the site was recognized for its inexpensive pricing. Even now, services of various types begin at $5, thus the nickname "Five(rr)." However, there are now far more expensive offerings and services available to private individuals and businesses.
There are a few things to consider if you want to be successful on Fiverr and earn a supplementary income as a freelancer. After all, the competition is massive, and there's nothing more annoying than enthusiastically setting up your account only to have no orders come in for days.
"Getting successful on Fiverr takes time, but you can do it if you're skilled enough and if you optimize your profile properly. It takes just a little bit of SEO and engaging images to make a Fiverr Gig stand out. Create all 7 gigs, stay active and keep applying to buyer requests." – Inu Etc
Here are some simple tips for you as a beginner to start Freelancing on Fiverr.
Tip 1:
Your Fiverr adventure begins with your profile. When you register, you must answer a few questions about yourself and your profession. You may also define your look on Fiverr, i.e. what potential customers will see of you afterward.
This contains the profile image, description, and any other relevant information.
Just maintain professionalism throughout your profile creation and no one can deny clicking at least once!
Tip 2:
The second step is to build gigs, which are ads for your skills on Fiverr. It is critical to consider certain quality elements when designing your gigs. The main components are the gig's title, description, and photo.
Take note of the following elements for an effective description:
There should be no large blocks of text (write concisely and use paragraphs)
Explain the issue (that you can fix) and address the source of the suffering.
How are you going to fix the problem?
What is your commitment? (Professionalism, dependability, punctuality, diligence, and so forth.)
You'll be able to write an appealing description if you follow these principles. Don't give up if you're having trouble with this job! Spend a couple of hours writing it. The description is so crucial that it is well worth the effort.
Tip 3:
There are a few "shortcuts" to your first orders and reviews that will assist you in getting your Fiverr profile up and running. These include "Buyer Requests" and current customers, as well as an annoyance that everyone faces at the start of their Fiverr journey: "selling below value."
Buyer Requests are a wonderful method to acquire orders on Fiverr even if you're starting from scratch. People who have posted a special, one-of-a-kind order may be found here.
Anyone who provides services in this field is eligible to apply for this position. The more persuasive your application and offer, the more probable it is that you will be approved.
Every day, you can send out 10 such applications. I strongly advise you to make full use of these 10 daily applications at the start! You'll obtain a job sooner or later if you make an effort and stick with it.
Tip 4:
I'd want to leave you with one last thought. Many individuals lose up on Fiverr fast since they haven't received an order in a few weeks, have already invested a lot of work, and the orders they desire just don't come in.
This initial phase, in which you must work hard on every assignment and review, is crucial. You must be patient and persevere. If you do everything you can to achieve your Fiverr objectives, you will be successful and everything will come into place sooner or later.
When you lose track of time on your dashboard due to the influx of orders, you may find yourself wishing for "less difficult" times.
You now have the finest ingredients to begin your Fiverr journey with confidence and excitement – you'll have a great time!
// Ask more about Fiverr and successful freelancing tips to Bhavisha on LinkedIn or follow her on Twitter for quality content! //