I had a Crush on this guy!
So I really liked this guy when I was in the second year of my graduation. Smart, good-looking and popular, just these 3 qualities were enough for me to fall in love with a guy (I know I was immature at that time, after all, we all are at some point in our lives)
But like any other crushes in the world, he never responded to my feelings (just like a true crush). He knew that I liked him, we were friends (not the best ones, but yeah) but he just didn't react to my emotions!
After 2 months of me going crazy for him, I got to know that he is dating the most popular girl in the college (yeah! a typical bollywood movie scene). That day I felt like Anjali from Kuch Kuch Hota hai! (the only difference was, I didn't leave my college for that guy)
Now the scene cuts to a week back when I got an Instagram DM from the same guy saying "Hi Drishti, do you remember me? We were in the same college. So happy to see your growth with such an amount of followers. You're so popular now"
Honestly, I still got butterflies after reading the message but the last line of his message reminded me of the fake world we are living in.
Power/Popularity – we badly want it. If we don't have it, then we want to associate ourselves with the person who has it! Even if we haven't spoken to that person in years!
Now just because they see me online with "some number of followers" they want themselves to be associated with me! Got so many positive DMs from my old friends who used to ignore/bully me in school.
This doesn't stop here, if there are 4 influencers in the a group, the person with highest no. of followers will be given priority over others! I have seen this happening LIVE!!
Everyone's mind is running into the "number game"! Which is so wrong.
We need to learn how to treat everyone equally and not be fascinated by the no. of followers or fan base that the person has. Because behind the camera, everyone's life is the same!!
Drishti Sharma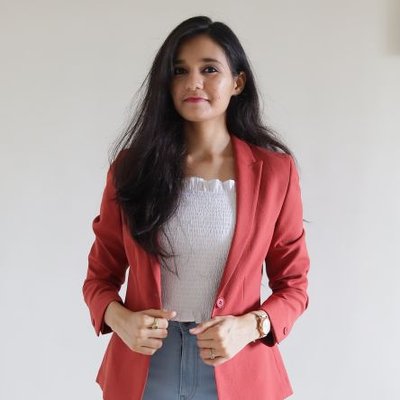 About Drishti Sharma:
• An ex TCSer who worked as an SAP FI Consultant.
• I started Blogging as a passion in October 2019 and gradually stepped into Video Creation & Content Development.
• Blogs – My core content is about self-improvement and mindset development. I write about how a person can improve his/her life just by changing their mindset. My writings include my experience & learnings from self-help books.
I also have a keen interest in subconscious mind and law of attraction, as the first book I ever read – The Power of Subconscious Mind, has done wonders for me.
• Video – I started with 50 Days 50 Stories project on Instagram (@drishtiispeaks) where I narrated 50 Stories of 50 Successful people in 1 Minute. The project received a positive response and I gained confidence to create short videos on regular basis.
• Currently, I make detailed videos on Mindset & Personality Development on my Youtube and Instagram. I believe in working on project based content, hence I created projects like 50 Days 50 Stories (S2) and The Glamup Project to keep the audience engaged and watch my content on repeat.
For more such stories, follow us on YouTube, Facebook, Twitter, and Instagram.